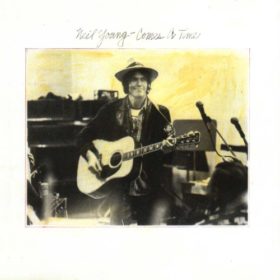 Neil Young – Comes a Time (1978)
Tracks
Description
Artist
To listen to a song, click the "Play" button.
Goin' Back
Comes a Time
Look Out for My Love
Peace of Mind
Lotta Love
Human Highway
Already One
Field of Opportunity
Mortorcycle Mama
Four Strong Winds
Comes a Time is the ninth studio album by Canadian singer-songwriter Neil Young, released in October 1978. "Comes a Time"is also the title song and a single release from the album.
The album originally started out as a solo record, but when Young played it for Reprise executives they asked him if he would consider adding rhythm tracks to what he already had. Young agreed, and the end product was Comes a Time. Two songs ("Look Out For My Love"and "Lotta Love") were backed by Crazy Horse.
"Human Highway"was written several years prior to the album's release, and originally presented to Crosby, Stills, Nash & Young in 1974 for a proposed studio album by the group which never came to be. Much of the album features harmony vocals from Nicolette Larson. She also shares lead vocals with Young on "Motorcycle Mama".
For many years it was rumoured that Young had personally purchased some 200,000 vinyl copies of Comes a Time having been unhappy with the album's sound, owing to damage that occurred to the master tape during shipment to the mixing facility. The version of the album most widely available today was personally remixed by Young from the safety copy of the original master. In a March 2014 interview with Rolling Stone, Young claimed that he, in fact, used the 200,000 LPs as shingles for a barn roof.
Neil Percival Young, (born November 12, 1945), is a Canadian singer-songwriter, musician, producer, director and screenwriter. After embarking on a music career in the 1960s, he moved to Los Angeles, where he formed Buffalo Springfield with Stephen more...
Genres: Country Rock, Folk Rock, International Rock
Also download other albums from Neil Young