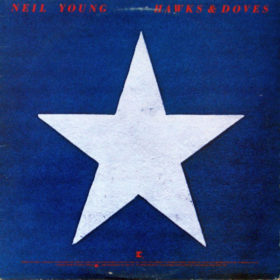 Neil Young – Hawks & Doves (1980)
Tracks
Description
Artist
To listen to a song, click the "Play" button.
Little Wing
Old Homestead
Lost In Space
Captain Kennedy
Stayin' Power
Coastline
Union Man
Comin' Apart At Every Nail
Hawks & Doves
Hawks & Doves is the tenth studio album by Canadian musician Neil Young, released in November 1980. Hawks & Doves's two sides were recorded in different circumstances, side one being culled from sessions dating from approximately 1974 through 1977, and side two from sessions set in early 1980 specifically for the album. It is also one of Young's shortest albums, its running time just under half an hour.
Neil Percival Young, (born November 12, 1945), is a Canadian singer-songwriter, musician, producer, director and screenwriter. After embarking on a music career in the 1960s, he moved to Los Angeles, where he formed Buffalo Springfield with Stephen more...
Genres: Country Rock, Folk Rock, International Rock
Also download other albums from Neil Young