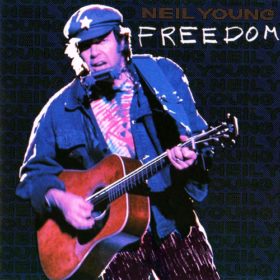 Neil Young – Freedom (1989)
Tracks
Description
Artist
To listen to a song, click the "Play" button.
Rockin' In The Free World - Live Acoustic Version Album Version
Crime In The City (Sixty to Zero Part I)
Don't Cry
Hangin' on a Limb
Eldorado
The Ways of Love
Someday
On Broadway
Wrecking Ball
No More
Too Far Gone
Rockin' in the Free World
Freedom is the 17th studio album by Canadian musician Neil Young, released on October 2, 1989. Freedom effectively relaunched Young's career after a largely unsuccessful decade. After many arguments (and a lawsuit), Young left Geffen Records in 1988 and returned to his original label, Reprise, with This Note's for You. Freedom, however, brought about a new, critical and commercially successful album. This album was released in the United States as an LP record, cassette tape, and CD in 1989.
Freedom has received mainly positive reviews, especially in comparison to the rest of his '80s work. AllMusic's William Ruhlmann rated the album four-and-a-half out of five stars, explaining that it "was the album Neil Young fans knew he was capable of making, but feared he would never make again". He also stated that "there were tracks that harked back to [his] acoustic-based, country-tinged albums". Robert Christgau, writing for The Village Voice, rated it an A. He declared that it contains a combination of "the folk ditties and rock galumph that made him famous"and "the Nashvillisms and horn charts that made him infamous". He also said "it features a bunch of good stuff about a subject almost no rocker white or black has done much with–crack". David Fricke of Rolling Stone rated it five out of five stars. He called it "the sound of Neil Young, another decade on, looking back again in anger and dread", and that it is about "the illusion of Freedom"and "Young's refusal to accept that as the last word on the subject". He summed up the review by calling it "a harsh reminder that everything still comes with a price".
Neil Percival Young, (born November 12, 1945), is a Canadian singer-songwriter, musician, producer, director and screenwriter. After embarking on a music career in the 1960s, he moved to Los Angeles, where he formed Buffalo Springfield with Stephen more...
Genres: Hard Rock, International Rock
Also download other albums from Neil Young