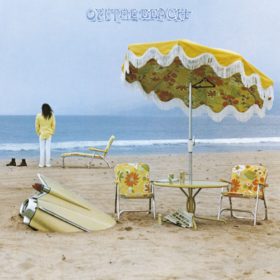 Neil Young – On the Beach (1974)
Tracks
Other videos of this song:

Mix - Walk On (2016 Remaster)

Walk On (2017 Remaster)

Neil Young - Walk On - Lincoln, NE - 7.11.2015

Walk On (Live)

Neil Young - Walk With Me
2
See the Sky About to Rain
About the Album
On the Beach is the fifth studio album by Neil Young, released in July 1974. Recorded after (but released before) Tonight's the Night, On the Beach shares some of that album's bleakness and crude production—which came as a shock to fans and critics alike, as this was the long-awaited studio follow-up to the commercially and critically successful Harvest—but also included hints pointing towards a more subtle outlook, particularly on the opener, "Walk On".
While the original Rolling Stone review described it as "One of the most despairing albums of the decade", later critics such as Allmusic's William Ruhlmann used the benefit of hindsight to conclude that Young "[w]as saying goodbye to despair, not being overwhelmed by it". The despair of Tonight's the Night, communicated through intentional underproduction and lyrical pessimism, gives way to a more polished album that is still pessimistic but to a lesser degree.
Much like Tonight's the Night, On the Beach was not a commercial success at the time of its release but over time attained a high regard from fans and critics alike. The album was recorded in a haphazard manner, with Young utilizing a variety of session musicians, and often changing their instruments while offering only bare-bones arrangements for them to follow (in a similar style to Tonight's the Night). He also would opt for rough, monitor mixes of songs rather than a more polished sound, alienating his sound engineers in the process.
Throughout the recording of the album, Young and his fellow musicians consumed a homemade concoction dubbed "Honey Slides", a goop of sauteed marijuana and honey that "felt like heroin". This may account for the mellow mood of the album, particularly the second half of the LP. Young has said of it "Good album. One side of it particularly—the side with 'Ambulance Blues', 'Motion Pictures' and 'On the Beach'—it's out there. It's a great take."
Genres: Folk Rock, International Rock
About the Artist/Band

Neil Percival Young, (born November 12, 1945), is a Canadian singer-songwriter, musician, producer, director and screenwriter. After embarking on a music career in the 1960s, he moved to Los Angeles, where he formed Buffalo Springfield with Stephen more...
Other Neil Young discography albums for download