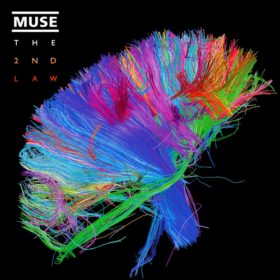 Muse – The 2nd Law (2012)
Tracks
Description
Artist
To listen to a song, click the "Play" button.
Supremacy
Madness
Panic Station
Prelude
Survival
Follow Me
Animals
Explorers
Big Freeze
Save Me
Liquid State
The 2nd Law: Unsustainable
The 2nd Law: Isolated System
The Making Of The 2nd Law
Bonus Feature
The 2nd Law is the sixth studio album by English rock band Muse. It was released on 1 October 2012 in the United Kingdom and elsewhere on 28 September, 2 and 3 October under Warner Bros. Records and the band's own Helium-3 imprint. The title of the album refers to the second law of thermodynamics and the album's cover art features a map of the human brain's pathways, which was taken from the Human Connectome Project. Recording of the album took place in four different studios, began in October 2011, and ended in August 2012. Mainly self-produced by the band, with the exception of the song "Follow Me"which was co-produced by English electronic music trio Nero, The 2nd Law features multiple styles of music and was influenced by acts such as Queen, David Bowie, and Skrillex.
Upon release, the album received generally favourable reviews from music critics, holding a 70/100 score on review aggregator site Metacritic, and had a very positive commercial performance. It was a top ten-charting album in 31 countries and a number one album in 13 countries. The album has been certified platinum by the BPI in the United Kingdom, the FIMI in Italy, the IFPI in Switzerland, and the MC in Canada. It has also been certified triple-platinum by the SNEP in France. At the 55th Annual Grammy Awards, the album was nominated for Best Rock Album and the album's second track "Madness"was nominated for Best Rock Song. The album's third track "Panic Station"was also nominated for Best Rock Song at the 56th Annual Grammy Awards the following year.
A total of five official singles were released from the album. "Survival", released on 27 June, and "Madness", released on 20 August, preceded the album's release. "Survival"was notable for being chosen as the official song for the 2012 Summer Olympics, while "Madness"was notable for its positive commercial performance, as well as for topping the Billboard Alternative Songs chart for a record 19 weeks, beating out the previous record set by "The Pretender"by Foo Fighters. Three singles were released after the release of the album: "Follow Me", released on 7 December, "Supremacy", released on 20 February 2013, and "Panic Station", released on 31 May.
Muse are an English rock band from Teignmouth, Devon, formed in 1994. The band consists of Matt Bellamy (lead vocals, guitar, piano, keyboards), Chris Wolstenholme (bass guitar, backing vocals, keyboards) and Dominic Howard (drums, more...
Genres: Alternative Rock, Art Rock, International Rock
Also download other albums from Muse