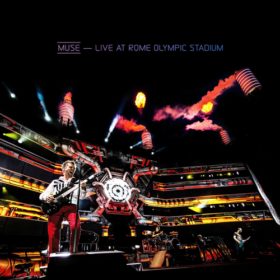 Muse – Live at Rome Olympic Stadium (2013)
Tracks
Description
Artist
To listen to a song, click the "Play" button.
Supremacy
Panic Station
Resistance
Hysteria
Animals
Knights Of Cydonia
Explorers
Follow Me
Madness
Guiding Light
Supermassive Black Hole
Uprising
Starlight
Intro
Supremacy
Panic Station
Plug In Baby
Resistance
Animals
Knights Of Cydonia
Explorers
Hysteria
Feeling Good
Follow Me
Madness
Time Is Running Out
Guiding Light
Undisclosed Desires
Supermassive Black Hole
Survival
The 2nd Law: Isolated System
Uprising
Starlight
Extras
Stockholm Syndrome (Las Vegas)
Unsustainable (Las Vegas)
Liquid State (Dallas)
The Road (The Film)
Live at Rome Olympic Stadium is a live album and video by English rock band Muse, which was released on 29 November 2013 in the CD/DVD and Blu-ray formats. On 5 November 2013, the film received theatrical screenings in 20 cities worldwide, and the next day it was screened for one night only in 40 other territories. The album contains the band's performance at Rome's Stadio Olimpico on 6 July 2013, in front of a crowd of 60,963 people. The concert was a part of The Unsustainable Tour, which is a moniker for the band's summer 2013 European leg of The 2nd Law World Tour.
The cameras which brought the concert to screen were sixteen Sony PMW-F55 CineAlta 4K cameras, and with a variety of cinema lenses, including 5 Angenieux 24/290s, an Elite 120/520, a number of Optimo 14/52's and with Fujinon 19–90 Cabrio and 85–300 Cabrio. Furthermore, a crane, a Towercam, various hotheads and a Spidercam were used. All images were recorded in HD and 4K on three terabyte hard drives. Alongside video, 120 lines of multi-track audio were recorded, all redundant. The result of all of this was 4 sets with material, 2 main sets and 2 back-up sets.
The show was directed by Matt Askem (with whom the band worked on two previous videos, Hullabaloo: Live at Le Zenith, Paris and HAARP), and produced by Serpent Productions.
Muse are an English rock band from Teignmouth, Devon, formed in 1994. The band consists of Matt Bellamy (lead vocals, guitar, piano, keyboards), Chris Wolstenholme (bass guitar, backing vocals, keyboards) and Dominic Howard (drums, more...
Genres: Alternative Rock, International Rock
Also download other albums from Muse