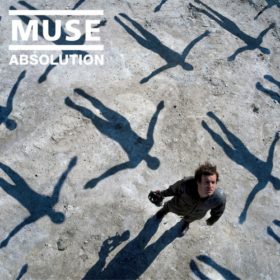 Muse – Absolution (2003)
Tracks
Muse - Intro + Uprising (Live from Wembley Stadium)
Other videos of this song:

Muse - Intro (Live At Wembley Stadium 2007)

Muse - Intro & Uprising [live]

Top 10 Riffs - Muse

Mix - Muse - Intro + Uprising (Live from Wembley Stadium)

Intro
10
Butterflies & Hurricanes
13
Thoughts Of A Dying Atheist
About the Album
Absolution is the third studio album by English rock band Muse. It was released on 15 September 2003 in Japan, 22 September 2003 in the United Kingdom by East West Records and Taste Media and 23 March 2004 in the United States by Warner Bros. Records. The album followed up on Origin of Symmetry's diverse musical tendencies and elaborate sound, while also having a more focused and consistent theme and aesthetic throughout. Absolution has a noticeably darker and heavier tone musically, with a lyrical focus on theological and apocalyptic concepts.
The album reached number one on the UK Albums Chart. It also yielded the band's first top 10 single hit, with "Time Is Running Out"peaking at number 8 on the UK Singles Chart. In 2009, it was voted by Kerrang! as the second-best album of the 21st century thus far.
In April 2004, Muse frontman Matt Bellamy stated "I think that Absolution is not necessarily a religious word: "It has meanings of purity, but it's not necessarily talking from a Christian or any particular religious point of view. I think it's just suggesting that the act of making music is a way of understanding things."
The band spent much of 2002 recording Absolution with producer Rich Costey. The album was recorded in studios in both Los Angeles and London. Bellamy said that the band made a "conscious decision"to "get together in a room and make music", setting aside time to record the album, as previous albums' recording sessions were 'hastily arranged' and rushed.
Absolution is an alternative rock, hard rock, and art rock album. It establishes some of the musical and lyrical themes which would later become Muse's trademarks, such as symphonic rock influences on "Butterflies and Hurricanes", orchestral music influences on "Blackout"and electronic music influences on "Endlessly". Lyrically, the album incorporates themes of fear, mistrust, personal achievement and joy, and a general theme of "things coming to an end". Bellamy said that the beginning of the Iraq War had an effect on their songwriting. These musical influences and lyrical themes were relatively new to Muse's sound and would be further explored on their following albums, in particular their fifth studio album The Resistance.
The b-side and bonus track Fury and future Black Holes and Revelations track "Soldier's Poem" were among discarded material written during the Absolution sessions, with "Fury"being dropped in favour of "The Small Print"due to Chris Wolstenholme and Dominic Howard's preference to the latter song, despite frontman Matt Bellamy intending to include the former on the album's track listing.
Genres: Alternative Rock, International Rock
Other Muse discography albums for download