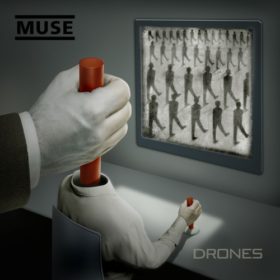 Muse – Drones (2015)
Tracks
Muse - Dead Inside [Official Music Video]
Other videos of this song:

Muse - Dead Inside [Official Lyric Video]

Muse: Dead Inside Live at the Mayan

Muse - Dead Inside (Lyrics)

Muse - Mercy [Official Music Video]

Mix - Muse - Dead Inside [Official Music Video]
About the Album
Drones is the seventh studio album by English rock band Muse. It was released on 5 June 2015 in Europe and 8 June in the United Kingdom through Warner Bros. Records and Helium-3.
Drones is a concept album following a soldier from abandonment to indoctrination as a "human drone"and eventual defection. After their previous albums incorporated orchestral and electronic music, Muse aimed to return to a more straightforward rock sound. The album was recorded between October 2014 and April 2015 at the Warehouse Studio in Vancouver, British Columbia, co-produced by the band and Robert John "Mutt"Lange.
Drones received mixed reviews; many critics praised the instrumentation but criticised the concept and lyrics. The album also topped the charts of 21 countries including the UK Albums Chart (where it became Muse's fifth consecutive number-one album) and the US Billboard 200 chart. It sold over a million copies worldwide in 2015, making it the 19th best-selling album of the year. At the 58th Annual Grammy Awards, it won the award for Best Rock Album.
Genres: Alternative Rock, International Rock, Progressive Rock
Other Muse discography albums for download