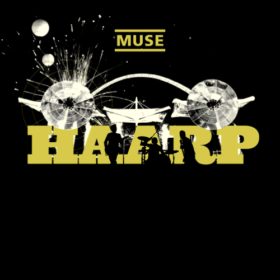 Muse – HAARP (2008)
Tracks
Muse - Live From Wembley Stadium 2007 (Full Concert Film)
Other videos of this song:

MUSE AT WEMBLEY STADIUM 16 JUNE 2007, LIVE

Muse - Knights Of Cydonia: Live At Wembley Stadium 2007

Muse Live at Wembley Stadium 2010 (Full Multicam)

Muse - Invincible [Live From Wembley Stadium]

▶ Muse Live at Rome Olympic Stadium 2013 FULL HD 1080p
1
Live At Wembley Stadium, London, 16 June 2007
3
Close Encounters Of The Third Kind
6
Supermassive Black Hole
7
Map Of The Problematique
8
Butterflies & Hurricanes
18
Live At Wembley Stadium, London, 17 June 2007
20
Close Encounters Of The Third Kind
23
Supermassive Black Hole
24
Map Of The Problematique
25
Butterflies & Hurricanes
About the Album
HAARP is a live album and video by English rock band Muse, released on 17 March 2008 in the United Kingdom and 1 April 2008 in the United States. The CD documents the band's performance at London's Wembley Stadium on 16 June 2007, while the DVD contains 20 tracks from the performance on 17 June. The total number of audiences watching the band's shows on 16 and 17 June 2007 was 180,000 (150,000 seated and 30,000 standing). It was named the 40th greatest live album of all time by NME in 2010.
For their performances at Wembley, Muse had the stadium decked out with massive props to dress it as the HAARP, a US government-funded ionospheric research program in Gakona, Alaska which uses high frequency radio waves to cause changes in the ionosphere. Muse frontman Matt Bellamy is well known as a "conspiracy theorist", and stated in a 2006 interview "Some people think it's designed to tap into the ionosphere to control the weather. Others think it's there to diffuse Ufo beams, or to send out microwaves to control our thoughts". In 2008 he explained to Virgin Radio "All these sort of antennas, cables, screens and stuff are based on the same sort of layout as the HAARP layout".
In the build-up to the release of the recordings, the band released a number of web-format clips from the DVD. The full performance of "Unintended"was added to the band's official website on Christmas Eve, 24 December 2007, dubbed as a "little taste of things to come". On 11 January 2008, a microsite at www.he-3.mu was announced, featuring a grid of six boxes representing thumbnails of short clips from the DVD. As of 17 March, all six clips have been filled, featuring short clips from "Knights of Cydonia", "Supermassive Black Hole", "Feeling Good", "New Born", "Blackout"and the outro riffs of "Stockholm Syndrome". "Feeling Good"was also released in full to radio and television stations shortly afterwards, although it was not advertised on the official website. Vue cinemas held special screenings of the concert in high definition on 11 March 2008 at select cinemas.
A special edition of HAARP was released in addition to the regular CD/DVD, which features additional backstage footage and bonus postcards showing pictures of the three band members. The HAARP microsite is available for visitors to download iPod- and iPod Touch-/iPhone-formatted videos and mp3s of "Knights of Cydonia", "Supermassive Black Hole", "Unintended"and "Plug in Baby"featured on the DVD for free. Included is a bonus video of "Micro Cuts"and an mp3 of "City of Delusion"from the performance on 16 June.
Genres: Alternative Metal, International Rock
Other Muse discography albums for download