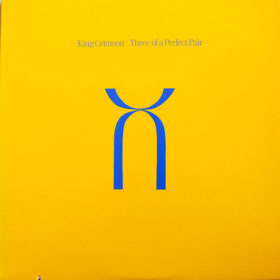 King Crimson – Three of a Perfect Pair (1984)
Tracks
Other videos of this song:

King Crimson Three of a Perfect Pair live 1984

King Crimson - Three of a Perfect Pair (Full Album)

King Crimson - Three of a Perfect Pair [Full Album]

King Crimson - Three Of A Perfect Pair (Acapella Intro) [50th Anniversary | Previously Unreleased]

Adrian Belew - Three Of A Perfect Pair (Live acoustic)
1
Three Of A Perfect Pair
5
Nuages (That Which Passes, Passes Like Clouds)
9
Larks' Tongues In Aspic Part III
About the Album
Three of a Perfect Pair is the tenth studio album by English band King Crimson, released in March 1984 by record label E.G. The album balances traditional song structures on the "left side"with more free-form improvisation on the "right side", fitting somewhere between the experimental Discipline and the more commercially accessible Beat. Tony Levin had more input than on any other King Crimson album. The "other side"on the 2001 remaster consists of bonus tracks including an a cappella in which all four members supposedly sing in a barbershop quartet but is really Levin's voice overdubbed to create harmonization.
The name of the album is based on the idea of perfect opposites and "three sides to every story", or his, hers, and an objective truth.
The Peter Willis designed artwork illustrates the sacred–profane dichotomy while being a simplified version of the Larks' Tongues in Aspic cover; a rising phallic object represents a male solar deity about to penetrate the crescent figure, a female lunar deity. However, one can also make out a Christian cross if staring at the empty spaces between the figures. The back cover illustration is the same but adds a third element, a curved line stretching to reconcile the opposing sides.
Genres: International Rock, Progressive Rock
About the Artist/Band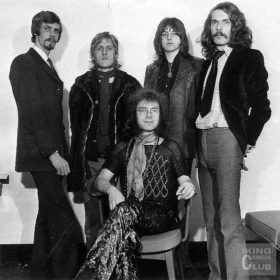 King Crimson are an English progressive rock band formed in London in 1968. King Crimson have been influential both on the early 1970s progressive rock movement and numerous contemporary artists. The band has undergone numerous formations throughout more...
Other King Crimson discography albums for download