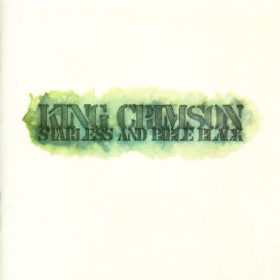 King Crimson – Starless and Bible Black (1974)
Tracks
King Crimson - The Great Deceiver (Single Edit) [50th Anniversary | (Previously Unreleased)]
Other videos of this song:

King Crimson - Starless And Bible Black (Full Album)

The Great Deceiver (Wetton & Bruford)

The Guitar Circle of Europe: The Great Deceiver (King Crimson)

King Crimson - The Night Watch (OFFICIAL)

King Crimson's "The Great Deceiver"
7
Starless And Bible Black
About the Album
Starless and Bible Black is the sixth studio album by English progressive rock band King Crimson, released in March 1974 by Island Records in the United Kingdom and by Atlantic Records in the United States. Much of the album was recorded live, but edited and blended with studio material.
Only four tracks on the album have lyrics. As had been the case with Larks' Tongues in Aspic, these were written by John Wetton's friend Richard Palmer-James (the former Supertramp guitarist who'd left the band after its first, self-titled album). "The Great Deceiver"refers to The Devil and is an ironic commentary on commercialism (Fripp contributed the line "cigarettes, ice cream, figurines of the Virgin Mary"after seeing souvenirs being marketed in Vatican City). "Lament"is about fame. "The Night Watch"is a short essay on Rembrandt's painting of the same name, describing the painting as an observer sees it and attempting to understand the subjects. "The Mincer"has more ambiguous lyrics, though lines such as "fingers reaching, linger shrieking", "you're all alone, baby's breathing", and the song's title could be references to a home invader or killer.
The phrase "Starless and Bible Black"is a quotation from the first two lines of poet Dylan Thomas's play, Under Milk Wood. The band's next album, Red, contains a song called "Starless", which contains the phrase "Starless and Bible Black", whereas "Starless and Bible Black"is an improvised instrumental. The title track on both the album and the compact disk is an edit of the original Amsterdam improvisation as performed at the Concertgebouw, which presumably ran several minutes longer (as improvisations of this tour often did). (The sleeve notes included with the CDs indicate that it was cut short for the 1973 album "due to the constraints of vinyl"). All currently-available master tapes contain the 9:11 version.
The album art is by painter Tom Phillips. The phrase "this night wounds time", which appears on the back cover, is a quotation from Phillips's signature work, the "treated Victorian novel"A Humument (p. 222).
Genres: International Rock, Progressive Rock
About the Artist/Band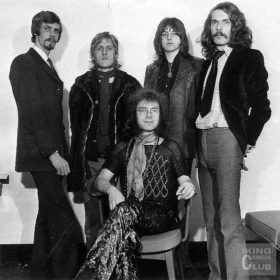 King Crimson are an English progressive rock band formed in London in 1968. King Crimson have been influential both on the early 1970s progressive rock movement and numerous contemporary artists. The band has undergone numerous formations throughout more...
Other King Crimson discography albums for download