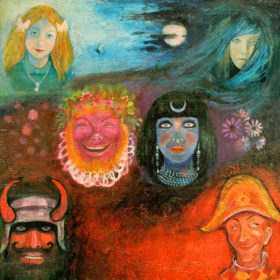 King Crimson – In the Wake of Poseidon (1970)
Tracks
Description
Artist
To listen to a song, click the "Play" button.
Peace - A Beginning
Pictures Of A City (Including 42nd At Treadmill)
Cadence And Cascade
In The Wake Of Poseidon (Including Libra's Theme)
Peace - A Theme
Cat Food
The Devil's Triangle
Peace - An End
In the Wake of Poseidon is the second studio album by English progressive rock group King Crimson, released in May 1970 by Island Records in Europe, Atlantic Records in the United States, and Vertigo Records in New Zealand. The album was recorded during instability in the band, with several personnel changes, but repeats the style of their first album, In the Court of the Crimson King. As with their first album, the mood of In the Wake of Poseidon often and quickly changes from serene to chaotic, reflecting the versatile musical aspects of progressive rock. To date the album is their highest-charting in the UK, reaching number 4. It has been well received by critics.
King Crimson are an English progressive rock band formed in London in 1968. King Crimson have been influential both on the early 1970s progressive rock movement and numerous contemporary artists. The band has undergone numerous formations throughout more...
Genres: International Rock, Progressive Rock
Also download other albums from King Crimson