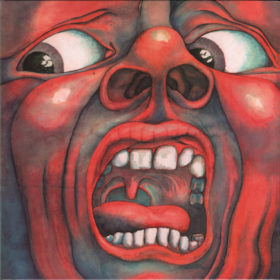 King Crimson – In the Court of the Crimson King (1969)
Tracks
Description
Artist
To listen to a song, click the "Play" button.
21st Century Schizoid Man Including Mirrors
I Talk To The Wind
Epitaph Including March For No Reason And Tomorrow And Tomorrow
Moonchild Including The Dream And The Illusion
The Court Of The Crimson King Including The Return Of The Fire Witch And The Dance Of The Puppets
In the Court of the Crimson King (subtitled An Observation by King Crimson) is the debut album from the English rock band King Crimson, released on 10 October 1969 on Island Records in England and Atlantic Records in America. The album is one of the first and most influential of the progressive rock genre, where the band largely departed from the blues influences that rock music was founded upon and combined elements of jazz, classical, and symphonic music.
The album reached No. 5 on the UK Albums Chart and No. 28 on the US Billboard 200, where it was certified Gold by the Recording Industry Association of America. The album was reissued several times in the 1980s and 1990s using inferior copies of the master tapes. After the masters were located in 2003, a 40th-anniversary edition of the album was released in 2009 with new stereo and 5.1 surround sound mixes by Steven Wilson.
King Crimson are an English progressive rock band formed in London in 1968. King Crimson have been influential both on the early 1970s progressive rock movement and numerous contemporary artists. The band has undergone numerous formations throughout more...
Genres: International Rock, Progressive Rock
Also download other albums from King Crimson