King Crimson – Beat (1982)
Tracks
Other videos of this song:

King Crimson - Neal and Jack and Me (Live In Frejus 1982)

King Crimson - 1982-09-29 - Munich, Germany

King Crimson - Beat (Full Album)

Adrian Belew - Neal And Jack And Me - 04.17.19 - Ardmore Music Hall

King Crimson - 06 - Neal And Jack And Me ( Live In Detroit November 09 , 1981 )
About the Album
Beat is the ninth studio album by the British rock band King Crimson, released in 1982 by record label E.G. It is the first King Crimson studio album to feature a band line-up identical to that of their previous album.
According to the Trouser Press Record Guide, the album focused on the twenty-fifth anniversary of the publication of the novel On the Road by Jack Kerouac. The halftone quaver image on the cover was designed by artist Rob O'Connor.
Genres: International Rock, Progressive Rock
About the Artist/Band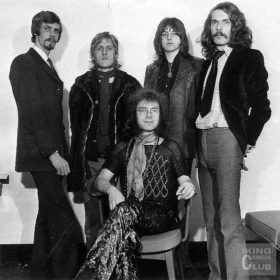 King Crimson are an English progressive rock band formed in London in 1968. King Crimson have been influential both on the early 1970s progressive rock movement and numerous contemporary artists. The band has undergone numerous formations throughout more...
Other King Crimson discography albums for download