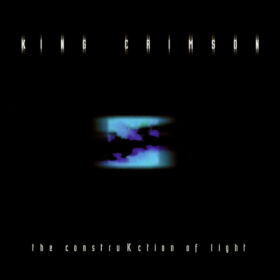 King Crimson – The Construkction of Light (2000)
Tracks
Other videos of this song:

KING CRIMSON ProzaKc Blues - Letra en español

Mix - ProzaKc Blues

KC - ProzaKc Blues - 2:31 abridged - The ConstruKction of Light - King Crimson

King Crimson Eyes Wide Open 2003

King Crimson Live in Paris, 25 June 2000
2
The ConstruKction Of Light
5
The World's My Oyster Soup Kitchen Floor Wax Museum
6
Larks' Tongues In Aspic - Part IV
About the Album
The Construkction of Light (stylised as The Construkction of Light) is the twelfth studio album by English band King Crimson, released in May 2000 by record label Virgin.
The Construkction of Light has the distinction of being the first studio album to be released by King Crimson without two longtime members (the first without drummer Bill Bruford, who debuted with the band for 1973's Larks' Tongues in Aspic, and without bassist Tony Levin, who joined in 1981). The departure of these stalwarts brought an end to the "double trio"era of the band and their return to a quartet: Robert Fripp, Adrian Belew, Trey Gunn and Pat Mastelotto. Fripp was now not only the last remaining member from any lineup prior to 1981, but the only Englishman left as well.
Musically, the album bears a sound similar the 1980s lineup, with Mastelotto primarily playing e-drums and Belew, Gunn and Fripp often playing sophisticated, interlocking parts, with Belew and Fripp often utilizing overdriven guitar tones. However, the pace of these interlocking parts is often slower than in the '80s, with Belew and Fripp often trading just single notes back and forth in hocket. As such, it presents a different twist on the gamelan approach of the '80s era.
The album also harks back to previous eras, presenting sequels to old pieces. "Larks' Tongues in Aspic – Part IV"continues a series of instrumental pieces forming a cross-album suite, primarily recalling motifs from part II. "FraKctured"began as a fifth entry in the "Larks"suite, but was later in the process considered closer "in lineage"to "Fracture", the final track from 1974's Starless and Bible Black, and thus renamed.
Genres: International Rock, Progressive Rock
About the Artist/Band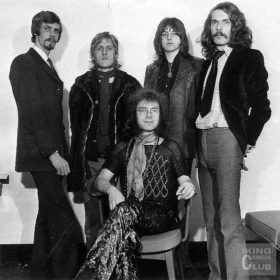 King Crimson are an English progressive rock band formed in London in 1968. King Crimson have been influential both on the early 1970s progressive rock movement and numerous contemporary artists. The band has undergone numerous formations throughout more...
Other King Crimson discography albums for download