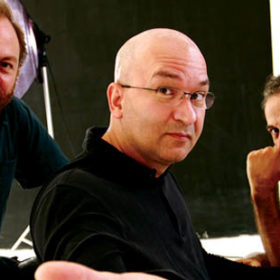 Os Paralamas do Sucesso
Os Paralamas do Sucesso (also known simply as Paralamas) is a Brazilian rock band, formed in Seropédica, Rio de Janeiro, in the late 1970s. Its members since 1982 are Herbert Vianna (guitar and lead vocals), Bi Ribeiro (bass), and João Barone
more...
Os Paralamas do Sucesso (also known simply as Paralamas) is a Brazilian rock band, formed in Seropédica, Rio de Janeiro, in the late 1970s. Its members since 1982 are Herbert Vianna (guitar and lead vocals), Bi Ribeiro (bass), and João Barone (drums). In its beginning, the band combined reggae and ska with rock, but later added horn arrangements and Latin rhythms.
Although considered part of the "Brasília gang", because they lived there and were friends with local bands, Paralamas' proper birthplace was Seropédica. Herbert Vianna and Felipe "Bi" Ribeiro were childhood friends and neighbors in that city. Herbert's father was in the military, while Bi's was a diplomat. In 1977, Herbert went to Rio to attend military school, and met Bi once again. They decided to form a band, Herbert with his Gibson guitar and Bi, which had no musical training whatsoever, with a bass guitar bought during a trip to England. The drummer Vital Dias would later join them. They parted ways in 1979, around the time all of them were busy studying for their vestibular tests, but resumed their musical activity in 1981.
The trio rehearsed in the house of Bi's grandmother (which provided inspiration for the song "Vovó Ondina é Gente Fina", or "Grandma Ondina is Really Cool") and in a farm in Mendes, and performed in small venues. Their setlist was not quite serious (with songs like "Pingüins, Já Não Os Vejo Pois Não Está na Estação", or "I No Longer See Penguins, Because They're Out of Season"), and they tried to create a name for the band in the same spirit, with the first option being "As Cadeirinhas da Vovó", or "Grandma's Little Chairs". The name "Paralamas do Sucesso" (meaning "Mudflaps of Success") was coined by Bi, and adopted because all three of them thought it was really funny. In the beginning, Herbert was only the guitar player, and the group had two lead singers, Ronel e Naldo, both of whom departed in 1982.
In 1982, Vital missed a gig at the Universidade Federal Rural do Rio de Janeiro and was replaced by João Barone, which became the drummer after he decided to leave the band. Vital would later inspire the demo song "Vital e sua Moto", which the band sent to FM station Rádio Fluminense, which was the first to broadcast many bands that would eventually achieve national recognition in Brazil. The song received substantial airplay in the summer of 1983, and the Paralamas made their first major appearance opening for Lulu Santos, another popular singer of their generation, in the Circo Voador. It was around that time when they signed a deal with EMI Brasil to record their first album Cinema Mudo (later defined by Herbert as "manipulated by the record company people"), which achieved moderate success.
Os Paralamas do Sucesso discography for download