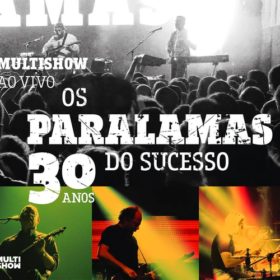 Os Paralamas do Sucesso – Multishow Ao Vivo 30 Anos (2017)
Tracks
Description
Artist
To listen to a song, click the "Play" button.
Alagados
Patrulha Noturna
Cinema Mudo
Ska
Mensagem De Amor
Cuide Bem Do Seu Amor
Busca Vida
Saber Amar
Romance Ideal
Quase Um Segundo
Meu Erro
Óculos
Lanterna Dos Afogados
Ela Disse Adeus
Melô Do Marinheiro
Uma Brasileira
O Beco
Lourinha Bombril
Aonde Quer Que Eu Vá
Caleidoscópio
Vital E Sua Moto
No description has been added yet...
Os Paralamas do Sucesso (also known simply as Paralamas) is a Brazilian rock band, formed in Seropédica, Rio de Janeiro, in the late 1970s. Its members since 1982 are Herbert Vianna (guitar and lead vocals), Bi Ribeiro (bass), and João Barone more...
Genres: Brazilian Rock, Pop Rock