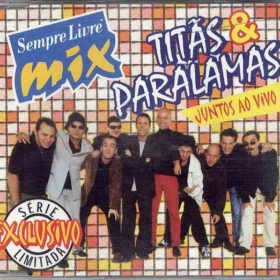 Os Paralamas do Sucesso – Sempre Livre Mix: Titãs & Paralamas Juntos Ao Vivo (1999)
Tracks
Lanterna dos Afogados-Paralamas do Sucesso
Other videos of this song:

Os Paralamas Do Sucesso - Lanterna Dos Afogados

Mix - Lanterna dos Afogados-Paralamas do Sucesso

Lanterna Dos Afogados

Os Paralamas Do Sucesso, Djavan - Lanterna Dos Afogados (Ao Vivo)

Paralamas do Sucesso - Lanterna dos Afogados (clipe original)
2
Nem 5 Minutos Guardados
9
Entrevista Titãs E Paralamas
About the Album
Titãs & Paralamas Juntos ao Vivo is a live album by Brazilian rock bands Titãs and Os Paralamas do Sucesso recorded and released in 1999. It features hits from both bands, an interview with both band members and the label's jingle. It's Titãs' third live album and Paralamas' fourth. it also marks the second time both bands perform together, the first being in the 1992 edition of Hollywood Rock.
The album was recorded amidst a homonymous tour which took the bands to many cities of Brazil (Rio de Janeiro, Londrina, Porto Alegre, Sorocaba, Araras, Goiânia, Salvador, Brasília, Campinas, Vitória, Aracaju, Curitiba and São Paulo).
The series of shows (each having an estimated cost of R$ 300,000) was conceived by Ajom Produções and would mark the debut of Sempre Livre Mix, a project that aimed at creating one annual attraction targeting a young audience, but that did not go beyond this tour.
The first performance took place on 15 May. By the time of the tour's announcement, some guest performances from notable Brazilian female singers like Fernanda Takai (Pato Fu), Paula Toller (Kid Abelha), Cássia Eller and Rita Lee were expected to happen. During the tour, each band performed alone for 50 minutes and then joined forces for a 40-minute joint show with two drums, two basses, two brass sections and two percussionists.
Genres: Brazilian Rock, Pop Rock
About the Artist/Band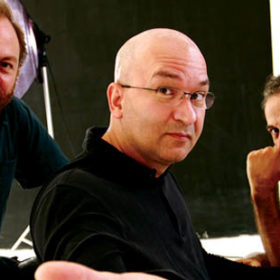 Os Paralamas do Sucesso (also known simply as Paralamas) is a Brazilian rock band, formed in Seropédica, Rio de Janeiro, in the late 1970s. Its members since 1982 are Herbert Vianna (guitar and lead vocals), Bi Ribeiro (bass), and João Barone more...