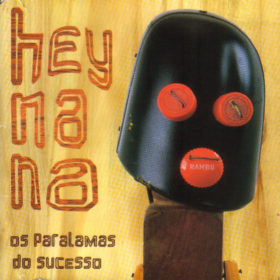 Os Paralamas do Sucesso – Hey Na Na (1998)
Tracks
Description
Artist
To listen to a song, click the "Play" button.
Por Sempre Andar
Depois Da Queda O Coice
O Trem da Juventude
Brasília 5:31
O Amor Não Sabe Esperar
Ela Disse Adeus
Scream Poetry
Viernes 3 AM
Um Dia em Provença
Santorini Blues
Hey Na Na is the ninth studio album by Brazilian rock band Os Paralamas do Sucesso. It was released in June 16, 1998. Main hits of the album include "Ela Disse Adeus" and "O Amor Não Sabe Esperar".
Former Legião Urbana guitarist Dado Villa-Lobos made a special appearance, providing guitars for some tracks.
Os Paralamas do Sucesso (also known simply as Paralamas) is a Brazilian rock band, formed in Seropédica, Rio de Janeiro, in the late 1970s. Its members since 1982 are Herbert Vianna (guitar and lead vocals), Bi Ribeiro (bass), and João Barone more...
Genres: Alternative Rock, Brazilian Rock, Pop Rock