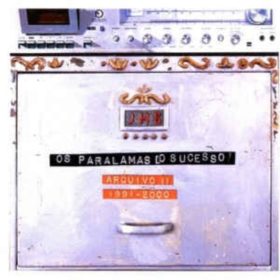 Os Paralamas do Sucesso – Arquivo II (2000)
Tracks
Description
Artist
To listen to a song, click the "Play" button.
Trac Trac (TrackTrack)
Tendo A Lua
Mensagem de Amor (2000)
Lourinha Bombril (Parate Y Mira)
La Bella Luna
Busca Vida
Uma Brasileira
Luís Inácio (300 Picaretas)
Saber Amar
Ela Disse Adeus
O Amor Não Sabe Esperar
Aonde Quer Que Eu Vá
Arquivo II is the second compilation album by brazilian rock band Os Paralamas do Sucesso.
Os Paralamas do Sucesso (also known simply as Paralamas) is a Brazilian rock band, formed in Seropédica, Rio de Janeiro, in the late 1970s. Its members since 1982 are Herbert Vianna (guitar and lead vocals), Bi Ribeiro (bass), and João Barone more...
Genres: Brazilian Rock, Pop Rock