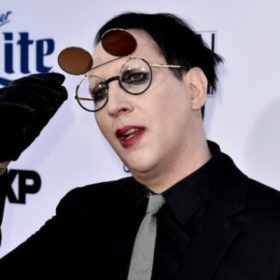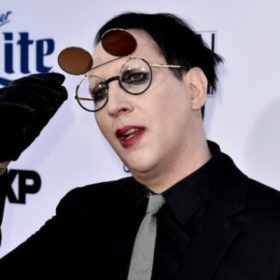 Marilyn Manson
Marilyn Manson is an American rock band formed by singer Marilyn Manson and guitarist Daisy Berkowitz in Fort Lauderdale, Florida, in 1989. Originally named Marilyn Manson & the Spooky Kids, they gained a local cult following in South Florida in the early 1990s with their theatrical live performances. In 1993, they were the first act signed to Trent Reznor's Nothing Records label. Until 1996, the name of each member was created by combining the first name of a female sex symbol and the last name of a serial killer, for example Marilyn Monroe and Charles Manson. Their lineup has changed between many of their album releases; the current members of Marilyn Manson are the eponymous lead singer (the only remaining original member), guitarist Tyler Bates, and drummer Gil Sharone. Paul Wiley appears as an additional guitarist during live shows.
In the past, band members dressed in outlandish makeup and costumes, and engaged in intentionally shocking behavior both onstage and off. Their lyrics often received criticism for their anti-religious sentiment and references to sex, violence and drugs, while their live performances were frequently called offensive and obscene. On several occasions, protests and petitions led to the group being blocked from performing, with at least three US states passing legislation banning the group from performing at state-owned venues. They released a number of platinum-selling albums, including Antichrist Superstar (1996) and Mechanical Animals (1998). These albums, along with their highly-stylized music videos and worldwide touring, brought public recognition to Marilyn Manson. In 1999, news media falsely blamed the band for influencing the perpetrators of the Columbine massacre.
As this controversy began to wane throughout the 2000s, so did the band's mainstream popularity. Despite this, Jon Wiederhorn of MTV, in June 2003, referred to Marilyn Manson as "the only true artist today". Marilyn Manson is widely regarded as being one of the most iconic and controversial figures in heavy metal music, with the band and its lead singer influencing numerous other groups and musicians, both in metal-associated acts and also in wider popular culture. VH1 ranked Marilyn Manson as the seventy-eighth best rock band on their 100 Great Artists of Hard Rock. They were inducted into the Kerrang! Hall of Fame in 2000, and have been nominated for four Grammy Awards. In the U.S., the band has seen eight of its releases debut in the top ten, including two number-one albums. Marilyn Manson have sold in excess of 50 million records worldwide.
Genres: International Rock, Alternative Rock, Alternative Metal, Industrial Metal, Gothic Metal, Industrial Rock
Marilyn Manson albuns for download