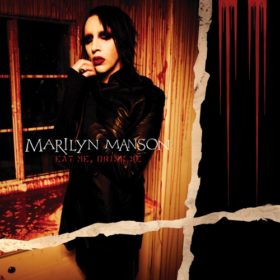 Marilyn Manson – Eat Me, Drink Me (2007)
Tracks
Description
Artist
To listen to a song, click the "Play" button.
If I Was Your Vampire
Putting Holes In Happiness
Red Carpet Grave
They Said That Hell's Not Hot
Just A Car Crash Away
Heart-Shaped Glasses (When The Heart Guides The Hand)
Evidence
Are You The Rabbit?
Mutilation Is The Most Sincere Form Of Flattery
You And Me And The Devil Makes 3
Eat Me, Drink Me
Eat Me, Drink Me is the sixth studio album by American rock band Marilyn Manson. It was released on June 5, 2007 by Interscope Records. It was recorded in a rented home-recording studio in Hollywood by lead vocalist Marilyn Manson and guitarist and bassist Tim Sköld. The album was produced by Manson and Sköld, and mixed by Sean Beavan. Upon release it was met with positive reviews from mainstream music critics. It is the band's first album not to be recorded as a five-piece as John 5 departed from the group in 2004. Instead of replacing 5, Tim Sköld remained with bass and played guitar, and the band continued as a four-piece.
Manson has stated that he sang most of the album lying down on the studio floor with his hands cupping the studio microphone, resulting in a very distinctive vocal sound. Of Sköld's compositions a further two are said to have been turned into fully-fledged songs with lyrics, music and vocals completed but were not put onto album for fear of making it overwrought.
The album was the last Marilyn Manson album to feature band member Tim Sköld, and spawned two singles ("Heart-Shaped Glasses (When the Heart Guides the Hand)" and "Putting Holes in Happiness"). The band supported the album with the Rape of the World Tour. The album debuted at number eight on the Billboard 200.
Marilyn Manson is an American rock band formed by singer Marilyn Manson and guitarist Daisy Berkowitz in Fort Lauderdale, Florida, in 1989. Originally named Marilyn Manson & the Spooky Kids, they gained a local cult following in South Florida in more...
Genres: Alternative Metal, Industrial Metal, International Rock
Also download other albums from Marilyn Manson