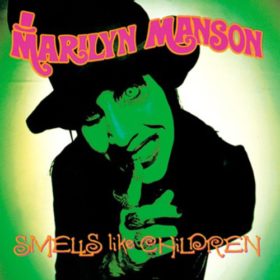 Marilyn Manson – Smells Like Children (1995)
Tracks
Marilyn Manson- The Hands of Small Children
Other videos of this song:

The Hands of Small Child - Marilyn Manson w/lyrics

The Hands Of Small Children (Explicit)

Marilyn Manson - Smells Like Children (Full Album 1995)

Marilyn Manson - Smell like Children ( ALBUM COMPLETO )

The Hands of Small Children - Marilyn Manson
1
The Hands Of Small Children
3
Shitty Chicken Gang Bang
5
Sympathy For The Parents
6
Sweet Dreams (Are Made Of This)
7
Everlasting C***sucker (Remix)
10
May Cause Discoloration Of The Urine Or Feces
11
Scabs, Guns, And Peanut Butter
12
Dance Of The Dope Hats (Remix)
13
White Trash (Remixed By Tony F. Wiggins)
14
Dancing With The One-Legged...
About the Album
Smells Like Children is an EP by American rock band Marilyn Manson. It was released on October 24, 1995 in the US through Nothing and Interscope Records. It was produced by Trent Reznor of Nine Inch Nails. The release represents an era of the band full of drugs, abuses, tours, sound experiments, and references the Child Catcher, a villain from the 1968 musical film Chitty Chitty Bang Bang.
The release was initially proposed to strictly be a remix single for "Dope Hat", but various contributions by engineer and Skinny Puppy producer Dave Ogilvie, Nine Inch Nails live keyboardist Charlie Clouser and new material by the band resulted in an eclectic and unusual combination of material. All the ideas and tracks for this EP were created and composed throughout the touring cycle in support of Portrait of an American Family, and is the first Marilyn Manson work that features longtime members Twiggy Ramirez on bass, and Ginger Fish on drums.
The album was certified Platinum by the Recording Industry Association of America (RIAA). The album was spearheaded by its sole single, a cover of "Sweet Dreams (Are Made of This)", originally written and performed by Eurythmics in 1983. The song's music video became a staple on MTV and helped to establish the band in the mainstream.
Genres: Alternative Metal, Gothic Metal, International Rock
About the Artist/Band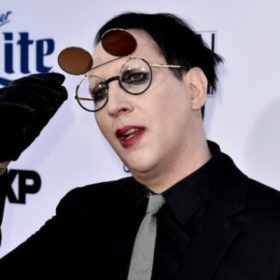 Marilyn Manson is an American rock band formed by singer Marilyn Manson and guitarist Daisy Berkowitz in Fort Lauderdale, Florida, in 1989. Originally named Marilyn Manson & the Spooky Kids, they gained a local cult following in South Florida in more...
Other Marilyn Manson discography albums for download