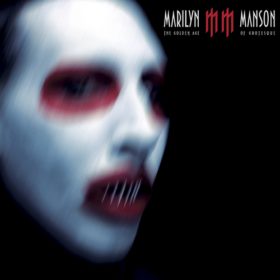 Marilyn Manson – The Golden Age Of Grotesque (2003)
Tracks
Marilyn Manson - Theatre - Intro
Other videos of this song:

Marilyn Manson - Thaeter

Marilyn Manson - Intro/Irresponsible Hate Anthem (Napisy PL) [GG&G Live L.A.]

MARILYN MANSON - CUPID CARRIES A GUN (OFFICIAL AUDIO)

Mix - Marilyn Manson - Theatre - Intro

Marilyn Manson - Rock Am Ring 2003 (FULL UNCUT SHOW HQ)
4
Doll-Dagga Buzz-Buzz Ziggety-Zag
5
Use Your Fist and Not Your Mouth
6
The Golden Age of Grotesque
12
The Bright Young Things
15
Obsequy (The Death of Art)
About the Album
The Golden Age of Grotesque is the fifth studio album by American rock band Marilyn Manson. It was released on May 7, 2003 by Nothing and Interscope Records, and was their first album to feature former KMFDM member Tim Sköld, who joined after longtime bassist Twiggy Ramirez amicably left the group over creative differences. It was also their final studio album to feature keyboardist Madonna Wayne Gacy and guitarist John 5, who would both acrimoniously quit before the release of the band's next studio album.
The record was produced by Marilyn Manson and Sköld, with co-production from Ben Grosse. Musically, it is less metallic as the band's earlier work, instead being more electronic and beat-driven. This was done to avoid creating music similar to nu metal, a then-predominant genre of hard rock which the vocalist considered cliché. Manson collaborated with artist Gottfried Helnwein to create several projects associated with the album, including Doppelherz, a 25-minute surrealist short film which was released on limited edition units of the record as a bonus DVD. The Golden Age of Grotesque was also the title of the Manson's first art exhibition.
The album's lyrical content is relatively straightforward, and was inspired by the swing, burlesque, cabaret and vaudeville movements of Germany's Weimar Republic-era, specifically 1920s Berlin. In an extended metaphor, Manson compares his own work to the Entartete Kunst banned by the Nazi regime as he attempts to examine the mindset of lunatics and children during times of crisis. Several songs incorporate elements commonly found in playground chants and nursery rhymes. "Mobscene" (stylized as "mOBSCENE") and "This Is the New Shit" were released as singles, and a controversial music video was released for "Saint" (stylized as "(s)AINT").
The record received mixed reviews from mainstream music critics: positive reviews praised its concept and production, while others criticized its lyrics and described the album as uneven. Despite this, it was a commercial success, selling over 400,000 copies in Europe on its first week to debut at number one Billboard's European Top 100 Albums. It also topped various national record charts, including Austria, Canada, Germany, Italy, Switzerland and the US Billboard 200. It was certified gold in many of these territories. "Mobscene" was nominated in the Best Metal Performance category at the 46th Annual Grammy Awards in 2004. The album was supported by the Grotesk Burlesk Tour.
Genres: Alternative Metal, Industrial Metal, International Rock
About the Artist/Band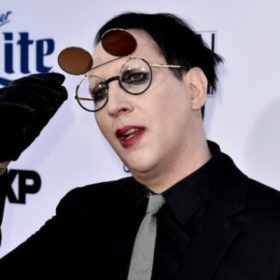 Marilyn Manson is an American rock band formed by singer Marilyn Manson and guitarist Daisy Berkowitz in Fort Lauderdale, Florida, in 1989. Originally named Marilyn Manson & the Spooky Kids, they gained a local cult following in South Florida in more...
Other Marilyn Manson discography albums for download