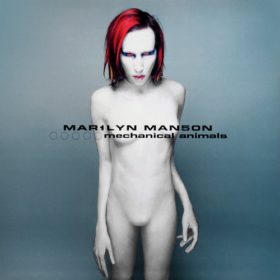 Marilyn Manson – Mechanical Animals (1998)
Tracks
Description
Artist
To listen to a song, click the "Play" button.
Great Big White World
The Dope Show
Mechanical Animals
Rock Is Dead
Disassociative
The Speed Of Pain
Posthuman
I Want To Disappear
I Don't Like The Drugs (But The Drugs Like Me)
New Model No. 15
User Friendly
Fundamentally Loathsome
The Last Day On Earth
Coma White
Mechanical Animals is the third studio album by American rock band Marilyn Manson. It was released on September 15, 1998, by Nothing and Interscope Records. The album marked a major shift from the industrial metal and alternative metal styles of the band's earlier efforts, into an experimentation with 1970s glam rock. As their first release following the success of their breakthrough album, 1996's Antichrist Superstar, Mechanical Animals' themes primarily deals with the trappings of fame and drug abuse.
A rock opera and concept album, Mechanical Animals is the second installment in a trilogy which included Antichrist Superstar and 2000's Holy Wood (In the Shadow of the Valley of Death). After the release of Holy Wood, Manson said that the overarching story within the trilogy is presented in reverse chronological order; Mechanical Animals, therefore, acts as the bridge connecting the two narratives and remains constant whether the trilogy is viewed in reverse or not.
The album has been certified platinum in the United States, Canada, and New Zealand. It spawned the singles "The Dope Show", "Rock Is Dead", and "I Don't Like the Drugs (But the Drugs Like Me)" as well as the promotional single, "Coma White". The album debuted at number one on the Billboard 200, making it the first Marilyn Manson album to do so.
Also download other albums from Marilyn Manson