Red Hot Chili Peppers – One Hot Minute (1995)
Tracks
Red Hot Chili Peppers - Warped [Official Music Video]
Other videos of this song:

Red Hot Chili Peppers - Warped (HD)

Red hot chili peppers Warped 94

Red Hot Chili Peppers - Warped Lyrics

Red Hot Chili Peppers – One Hot Minute

Red Hot Chili Peppers - Aeroplane [Official Music Video]
About the Album
One Hot Minute is the sixth studio album by American rock band Red Hot Chili Peppers, released on September 12, 1995 by Warner Bros. Records. The worldwide success of the band's previous album Blood Sugar Sex Magik (1991) caused guitarist John Frusciante to become uncomfortable with their status, eventually quitting mid-tour in 1992. Vocalist Anthony Kiedis, who had resumed addictions to cocaine and heroin in 1994 after being sober for more than five years, approached his lyricism with a reflective outlook on drugs and their harsh effects. It is the only studio album to feature Dave Navarro as the band's lead guitarist, who had joined the band in 1993 after a series of short-term replacements for Frusciante. Drummer Chad Smith and founding bassist Flea round out the main band personnel. The album was produced by Rick Rubin, who also produced their prior album.
One Hot Minute was a commercial disappointment, despite producing three hit singles and reaching number four on the US Billboard 200. Although it sold over two million copies and was certified multi platinum, it nonetheless sold fewer than half as many copies as Blood Sugar Sex Magik and received much less critical acclaim. Navarro was ultimately fired from the band in 1998 due to creative differences.
Genres: Alternative Rock, International Rock
About the Artist/Band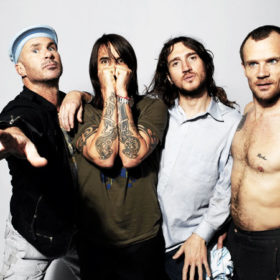 Red Hot Chili Peppers are an American funk rock band formed in Los Angeles in 1983. The group's musical style primarily consists of rock with an emphasis on funk, as well as elements from other genres such as punk rock and psychedelic rock. When more...