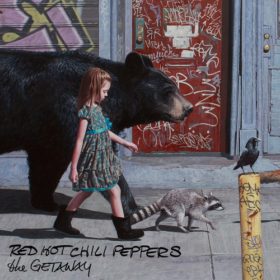 Red Hot Chili Peppers – The Getaway (2016)
Tracks
Description
Artist
To listen to a song, click the "Play" button.
The Getaway
Dark Necessities
We Turn Red
The Longest Wave
Goodbye Angels
Sick Love
Go Robot
Feasting On The Flowers
Detroit
This Ticonderoga
Encore
The Hunter
Dreams Of A Samurai
The Getaway is the eleventh studio album by American rock band Red Hot Chili Peppers, released through Warner Bros. on June 17, 2016. This is the band's first studio album since 2011's I'm with You. It was produced by Danger Mouse, who replaced Rick Rubin after twenty-five years and six albums as the band's producer.
The Getaway made its debut at number one in ten different countries while reaching number two in the band's home country of the United States along with the United Kingdom and Canada. Since its release, the album has received mostly favorable reviews.
The album was preceded by the first single "Dark Necessities"on May 5, 2016. The album's title track received radio airplay in the UK despite never being released as an official single. "Go Robot"was released as the album's second single on September 8, 2016, peaking at number 12 on the Alternative Songs Chart, while "Sick Love"was released as the third single on December 4, 2016 however it failed to chart. "Goodbye Angels"was released as the album's fourth single on April 4, 2017.
Red Hot Chili Peppers are an American funk rock band formed in Los Angeles in 1983. The group's musical style primarily consists of rock with an emphasis on funk, as well as elements from other genres such as punk rock and psychedelic rock. When more...
Genres: Alternative Rock, International Rock