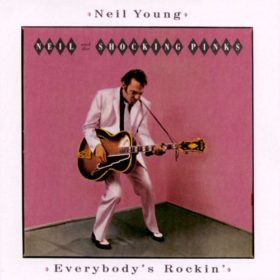 Neil Young – Everybody's Rockin' (1983)
Tracks
Description
Artist
To listen to a song, click the "Play" button.
Betty Lou's Got A New Pair Of Shoes
Rainin' In My Heart
Payola Blues
Wonderin'
Kinda Fonda Wanda
Jellyroll Man
Bright Lights, Big City
Cry, Cry, Cry
Mystery Train
Everybody's Rockin'
Everybody's Rockin' is the 13th studio album by Canadian musician Neil Young, released on August 1, 1983. The album was recorded with the Shocking Pinks (a band made up just for the occasion), and features a selection of rockabilly songs (both covers and original material). Running 25 minutes, it is Young's shortest album. Everybody's Rockin' is typical of his 1980s period in that it bears little or no resemblance to the album released before it (Trans (1982), a synth-heavy, electro-rock album), nor the one released after it (Old Ways (1985), which is pure country).
Neil Percival Young, (born November 12, 1945), is a Canadian singer-songwriter, musician, producer, director and screenwriter. After embarking on a music career in the 1960s, he moved to Los Angeles, where he formed Buffalo Springfield with Stephen more...
Genres: International Rock, Rockabilly
Also download other albums from Neil Young