Blue Öyster Cult – The Revölution by Night (1983)
Tracks
Blue Oyster Cult - Take Me Away
Other videos of this song:

Blue Oyster Cult: Take Me Away

Blue Oyster Cult - Take Me Away

Blue Oyster Cult - Take Me Away. (HQ-1080p)

Take Me Away (Live at Santa Monica Civic Auditorium, Santa Monica, CA - March 1986)

Take Me Away | Blue Öyster Cult | Lyrics ☾☀
About the Album
The Revölution by Night is the ninth studio album by American hard rock band Blue Öyster Cult, released in November 1983. The album was intended to capitalize on the success of Fire of Unknown Origin two years prior, hence the blend of straight-ahead rock and pop elements. This was the first BÖC album not to feature all of the band's classic members, drummer Albert Bouchard having been fired during the previous tour and replaced by roadie Rick Downey.
Lead single "Shooting Shark"became a radio hit, and its accompanying video became one of MTV's most requested clips upon its release. The lyrics to "Shooting Shark"were based on a poem by Patti Smith. The song "Take Me Away,"co-written by Eric Bloom and Canadian rock musician Aldo Nova, also received significant airplay on AOR. Nonetheless, the album failed to go Gold in the United States.
Genres: Hard Rock, International Rock, Power Pop
About the Artist/Band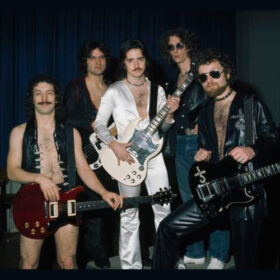 Blue Öyster Cult (often abbreviated BÖC or BOC) is an American rock band formed in Stony Brook, New York, in 1967, best known for the singles "(Don't Fear) The Reaper", "Burnin' for You", "Cities on Flame with Rock and Roll", and "Godzilla." They more...
Other Blue Öyster Cult discography albums for download