Blue Öyster Cult – Secret Treaties (1974)
Tracks
Blue Oyster Cult: Career of Evil
Other videos of this song:

Career of Evil

Mix - Blue Oyster Cult: Career of Evil

Blue Oyster Cult with Patti Smith and Allen Lanier - Career of Evil (Rehearsal)

Blue Oyster Cult - Career of Evil (lyrics)

Blue Öyster Cult - Career of Evil (Single Version)
3
Dominance and Submission
About the Album
Secret Treaties is the third studio album by American rock band Blue Öyster Cult, released in April 1974 by Columbia.
The album spent 14 weeks in the US album charts, peaking at No. 53. It was certified gold by the RIAA in 1992.
In 1975, a poll of critics of the British magazine Melody Maker voted Secret Treaties the "Top Rock Album of All Time". In 2010, Rhapsody called it one of the all-time best "proto-metal"albums.
All of the songs from the album found their way into BÖC playlists over the following years, except for "Cagey Cretins". It's the only BÖC album that does not feature a track with lead vocals sung by guitarist Donald "Buck Dharma"Roeser. The band also did not write any of the lyrics to the album, handing that duty to producer Sandy Pearlman, rock critic Richard Meltzer and Patti Smith.
Genres: Hard Rock, Heavy Metal, International Rock
About the Artist/Band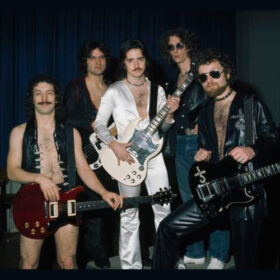 Blue Öyster Cult (often abbreviated BÖC or BOC) is an American rock band formed in Stony Brook, New York, in 1967, best known for the singles "(Don't Fear) The Reaper", "Burnin' for You", "Cities on Flame with Rock and Roll", and "Godzilla." They more...
Other Blue Öyster Cult discography albums for download