Blue Öyster Cult – Mirrors (1979)
Tracks
Blue Oyster Cult: Dr. Music
Other videos of this song:

Blue Oyster Cult - Dr. Music (Live at UC Berkeley)

Dr. Music

Blue Oyster Cult Live, Dr. Music

Blue Oyster Cult - Dr. Music

Mix - Blue Oyster Cult: Dr. Music
8
You're Not the One (I Was Looking For)
About the Album
Mirrors is the sixth studio album by American hard rock band Blue Öyster Cult, released on June 19, 1979. It was the first BÖC album not produced by long-time producer and manager Sandy Pearlman, instead being produced by Tom Werman.
After the success of 1976's Platinum Agents of Fortune, 1977's Gold Spectres and 1978's Platinum live effort Some Enchanted Evening, the fact that Mirrors struggled to reach Gold status disappointed band and label alike. According to interviews with the band and production staff, the intent for this album was to make a high-charting record with glossy production; however, the backlash from this attempt led to the band's future pairing with Martin Birch and an attempt to return to a darker sound.
Genres: Hard Rock, Heavy Metal, International Rock
About the Artist/Band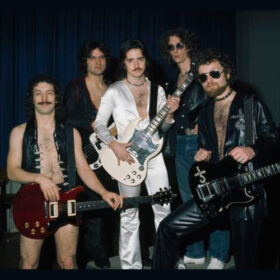 Blue Öyster Cult (often abbreviated BÖC or BOC) is an American rock band formed in Stony Brook, New York, in 1967, best known for the singles "(Don't Fear) The Reaper", "Burnin' for You", "Cities on Flame with Rock and Roll", and "Godzilla." They more...
Other Blue Öyster Cult discography albums for download