Blue Öyster Cult – On Your Feet Or On Your Knees (1975)
Tracks
Blue Oyster Cult: Subhuman
Other videos of this song:

Subhuman

Blue Öyster Cult

Blue Oyster Cult: Subhuman (Imaginos Version)

BÖC - On Your Feet or on Your Knees - 1. The Subhuman - 1975

The Subhuman (Live 1974)
5
Seven Screaming Dizbusters
7
Then Came the Last Days of May
10
Before The Kiss (A Redcap)
About the Album
On Your Feet Or On Your Knees is the first live album by American rock band Blue Öyster Cult, released February 27, 1975 by Columbia Records. The album features three songs from each of the band's first three studio albums, two covers ("I Ain't Got You,"albeit with modified lyrics, and "Born to Be Wild"), and one ("Buck's Boogie") original instrumental that remains a staple of the band's live shows to this day. The 12 songs include performances at the Academy of Music in New York City, the Paramount Theatre in Portland, the Paramount Theatre in Seattle, the Show Palace in Phoenix, the Long Beach Arena, the P.N.E. Coliseum in Vancouver and the Capitol Theatre in New Jersey, though it's not clear which songs came from which venues and on what dates. The cover lettering designed by Gerard Huerta, also used on the 2012 boxed set, was one of the first "Heavy Metal"logo designs.
The album hit No. 22 on the Billboard 200, thus making it the band's highest-charting album in the United States.
Genres: Hard Rock, Heavy Metal, International Rock
About the Artist/Band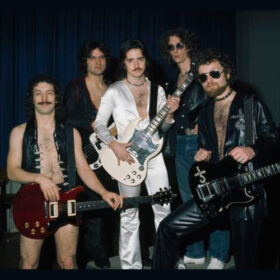 Blue Öyster Cult (often abbreviated BÖC or BOC) is an American rock band formed in Stony Brook, New York, in 1967, best known for the singles "(Don't Fear) The Reaper", "Burnin' for You", "Cities on Flame with Rock and Roll", and "Godzilla." They more...
Other Blue Öyster Cult discography albums for download