Blue Öyster Cult – Curse Of The Hidden Mirror (2001)
Tracks
Blue Oyster Cult: Dance on Stilts
Other videos of this song:

Dance on Stilts - Blue Öyster Cult

Mix - Blue Oyster Cult: Dance on Stilts

Dance on Stilts

Dance on Stilts - Blue Öyster Cult (live)

Blue Oyster Cult - A Long Day's Night - 04 - Dance on Stilts [LIVE]
5
One Step Ahead Of The Devil
7
Here Comes That Feeling
About the Album
Curse Of The Hidden Mirror is the fourteenth studio album by American hard rock band Blue Öyster Cult, released in 2001. The only single from the record was the poorly received "Pocket". Lackluster sales and poor relations led to the band being dropped by their label, Sanctuary Records. BÖC has not recorded a studio album or held a record deal since, though the band announced a deal with Frontiers Music in July 2019, with plans to release a new studio album in 2020.
The title of the album is taken from a song contained in the unreleased album by the Stalk-Forrest Group, the band that would later become Blue Öyster Cult, recorded in 1970.
John Shirley, an author of cyberpunk science fiction, wrote the lyrics for many songs of the album.
The song "Out Of The Darkness"was originally featured in the 1992 film Bad Channels, which Blue Öyster Cult recorded the soundtrack for, although the song was not included in the soundtrack album for the movie. "Showtime"was originally written and recorded for Cultösaurus Erectus but did not make the final cut.
Genres: Hard Rock, Heavy Metal, International Rock
About the Artist/Band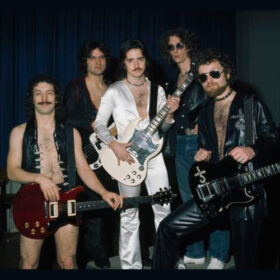 Blue Öyster Cult (often abbreviated BÖC or BOC) is an American rock band formed in Stony Brook, New York, in 1967, best known for the singles "(Don't Fear) The Reaper", "Burnin' for You", "Cities on Flame with Rock and Roll", and "Godzilla." They more...
Other Blue Öyster Cult discography albums for download