Blue Öyster Cult – Imaginos (1988)
Tracks
I Am the One You Warned Me Of
Other videos of this song:

Blue Oyster Cult: I Am the One You Warned Me Of

Mix - I Am the One You Warned Me Of

Blue Öyster Cult - I Am the One You Warned Me Of - San Diego CA 8/25/89

Blue Öyster Cult - I Am the One You Warned Me Of - Sacramento CA 11/4/88

I Am The One You Warned Me Of - By Blue Oyster Cult
1
I Am the One You Warned Me Of
3
In the Presence of Another World
5
The Siege and Investiture of Baron Von Frankenstein's Castle at Weisseria
About the Album
Imaginos is the eleventh studio album by the American hard rock band Blue Öyster Cult (commonly shortened as BÖC). It was released in 1988, and was their last recording with their original record label, CBS/Columbia Records. The album took nearly eight years to complete and was originally intended to be the first in a trilogy of solo albums by Blue Öyster Cult drummer and songwriter Albert Bouchard. Bouchard was fired in August 1981, and CBS rejected the album in 1984, but a re-worked version was eventually published as a product of the band. Many musicians contributed to the project over this eight-year span, including Joe Satriani, Aldo Nova, and Doors guitarist Robby Krieger, but some band members were barely involved in the recording process. Thus, Imaginos is often considered more as a project of producer and lyricist Sandy Pearlman than as a true album of the band.
Imaginos weaves scripts and poems by Pearlman, dating from the second half of the 1960s, into a concept album and rock opera about an alien conspiracy that is brought to fruition during the late 19th and early 20th century through the actions of Imaginos, an agent of evil. The tale combines elements of gothic literature and science fiction and is strongly inspired by the work of H. P. Lovecraft. Subtitled "a bedtime story for the children of the damned", it has an intricate storyline whose often-obscure lyrics contain many historical references, and is still an object of speculation by fans and critics. It is often considered one of the heaviest albums released by Blue Öyster Cult, its music more akin to heavy metal than the melodic and commercial hard rock of their two previous works. The poor sales of those albums resulted in record label pressure on the band that led to their disbandment in 1986; a subsequent comeback featured only three members of the classic line-up.
The album received some critical acclaim, but achieved no commercial success, and Columbia Records ended their contract with Blue Öyster Cult at the completion of the Imaginos Tour. Albert Bouchard, excluded from the recording progress of Imaginos after the initial rejection from Columbia Records, then took legal action against the band and the label to protect his rights as author and producer on the album. Blue Öyster Cult continued to perform and remained a live attraction, but ten years passed before they released an album of new songs.
Genres: Hard Rock, Heavy Metal, International Rock
About the Artist/Band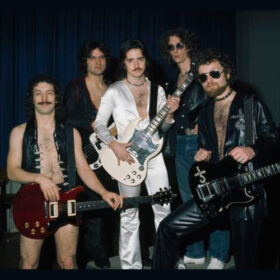 Blue Öyster Cult (often abbreviated BÖC or BOC) is an American rock band formed in Stony Brook, New York, in 1967, best known for the singles "(Don't Fear) The Reaper", "Burnin' for You", "Cities on Flame with Rock and Roll", and "Godzilla." They more...
Other Blue Öyster Cult discography albums for download