Blue Öyster Cult – Spectres (1977)
Tracks
Other videos of this song:

Godzilla Blue Oyster Cult Music Video HD

Blue Oyster Cult - Godzilla

Godzilla KOTM - Godzilla (feat. Serj Tankian) - Bear McCreary (Official Video)

Mix - Godzilla

Lock-down Godzilla
8
Goin' Through the Motions
About the Album
Spectres is the fifth studio album by U.S. hard-rock band Blue Öyster Cult, released in October 1977. The album, which features one of the band's biggest hits, concert staple "Godzilla,"was certified gold in January 1978.
The cover art features Blue Öyster Cult's use of lasers in their live show at that time. A remastered version was released on February 13, 2007, which included four previously unreleased outtakes from the Spectres sessions as bonus tracks.
Genres: Hard Rock, Heavy Metal, International Rock
About the Artist/Band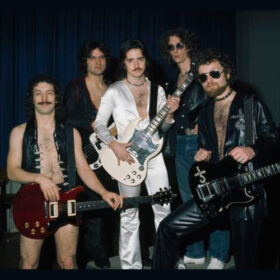 Blue Öyster Cult (often abbreviated BÖC or BOC) is an American rock band formed in Stony Brook, New York, in 1967, best known for the singles "(Don't Fear) The Reaper", "Burnin' for You", "Cities on Flame with Rock and Roll", and "Godzilla." They more...
Other Blue Öyster Cult discography albums for download