Blue Öyster Cult – Some Enchanted Evening (1978)
Tracks
Blue Oyster Cult: R.U. Ready 2 Rock
Other videos of this song:

R.U. Ready 2 Rock (Live at Fox Theater, Atlanta, GA - April 1978)

R. U. Ready 2 Rock

Mix - Blue Oyster Cult: R.U. Ready 2 Rock

Blue Oyster Cult - R.U. Ready 2 Rock (Live at The Capitol Center, 1978)

R U Ready 2 Rock (Live)
2
E.T.I. (Extra Terrestrial Intelligence)
6
(Don't Fear) The Reaper
7
We Gotta Get Out of This Place
About the Album
Some Enchanted Evening is the second live album by the American hard rock band Blue Öyster Cult, released in September 1978 (see 1978 in music). It is Blue Öyster Cult's best-selling album, having sold two million copies, including over a million in the United States. The album's seven original tracks were recorded at various locations in the United States and England.
The album was re-issued on CD in early 2007 on Legacy Recordings and included seven previously unreleased bonus tracks recorded in various locations around the US, along with a DVD entitled Some OTHER Enchanted Evening, which featured a previously unreleased performance videotaped at the Capital Centre in Largo, Maryland on July 14, 1978.
Genres: Hard Rock, Heavy Metal, International Rock
About the Artist/Band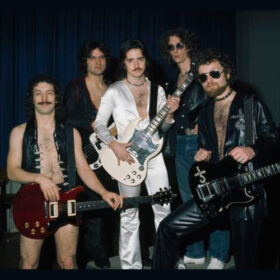 Blue Öyster Cult (often abbreviated BÖC or BOC) is an American rock band formed in Stony Brook, New York, in 1967, best known for the singles "(Don't Fear) The Reaper", "Burnin' for You", "Cities on Flame with Rock and Roll", and "Godzilla." They more...
Other Blue Öyster Cult discography albums for download