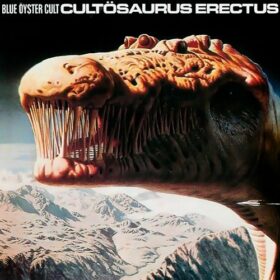 Blue Öyster Cult – Cultösaurus Erectus (1980)
Tracks
Blue Oyster Cult: Black Blade
Other videos of this song:

Blue Oyster Cult - Black Blade

Blue Oyster Cult: Black Blade

Blue Oyster Cult - Black Blade (with spoken introduction)

Black Blade (Live at Nassau Coliseum, Long Island, NY - December 1981)

Black Blade
About the Album
Cultösaurus Erectus is the seventh studio album by American hard rock band Blue Öyster Cult, released in 1980. Following an experiment with a more-polished sound on the album Mirrors (released the previous year), this recording marked a return to the band's earlier, heavier sound. The first track, "Black Blade", features lyrics by fantasy and sci-fi writer Michael Moorcock and is about Stormbringer, a black sword wielded by Elric of Melniboné, the most famous character in Moorcock's mythology.
This album also features the first collaboration with British producer Martin Birch (Deep Purple, Fleetwood Mac, Black Sabbath, Iron Maiden), who would also produce the band's following album Fire of Unknown Origin in 1981. The riff to Deep Purple's "Smoke on the Water", a song Birch helped record, is referenced in "The Marshall Plan"- a song not about the World War II scenario, but a reference to the amplifier manufacturer.
While the album did sell more than its predecessor, it stalled at Gold status. However, during this time Blue Öyster Cult was still filling large venues. The tour promoting Cultösaurus Erectus found the band co-headlining sports arenas in the United States with Black Sabbath as part of the Black and Blue Tour (see Black and Blue).
The album cover features the central part of the painting Behemoth's World by British artist Richard Clifton-Dey.
Genres: Hard Rock, International Rock, Progressive Metal
About the Artist/Band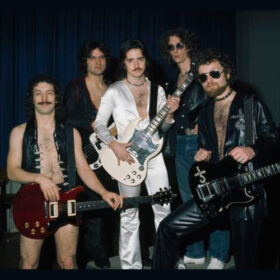 Blue Öyster Cult (often abbreviated BÖC or BOC) is an American rock band formed in Stony Brook, New York, in 1967, best known for the singles "(Don't Fear) The Reaper", "Burnin' for You", "Cities on Flame with Rock and Roll", and "Godzilla." They more...
Other Blue Öyster Cult discography albums for download