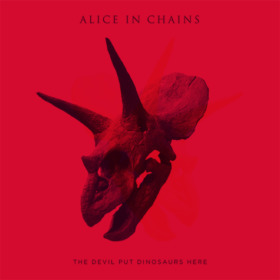 Alice In Chains – The Devil Put Dinosaurs Here (2013)
Tracks
Description
Artist
To listen to a song, click the "Play" button.
Hollow
Pretty Done
Stone
Voices
The Devil Put Dinosaurs Here
Lab Monkey
Low Ceiling
Breath on a Window
Scalpel
Phantom Limb
Hung on a Hook
Choke
The Devil Put Dinosaurs Here is the fifth studio album by the American rock band Alice in Chains, released on May 28, 2013 through Capitol Records (and the band's final album released by the label). It is the band's second reunion album. Following a worldwide tour in support of its previous album, Black Gives Way to Blue (2009), Alice in Chains began work on a new album. The making of The Devil Put Dinosaurs Here lasted for more than a year and the release of the album was delayed numerous times. The band entered the studio in July 2011 to start work on their fifth album. During the writing and recording sessions, guitarist and vocalist Jerry Cantrell underwent shoulder surgery, which resulted in the delay of the album. The recording sessions of The Devil Put Dinosaurs Here were completed in December 2012.
Peaking at No. 2 on the Billboard 200 chart and at No. 1 on the Top Rock Albums chart, the album was well received by music critics, and "Hollow", "Stone", "Voices" were released as singles to promote the album. "Hollow" and "Stone" reached No. 1 on Billboard's Mainstream Rock Tracks, while "Voices" reached No. 3, and each one of the three songs stayed on the chart for 20 weeks.
The Devil Put Dinosaurs Here also reached the top ten in the national albums charts of Australia, Finland and Norway. The album was nominated for a Grammy Award for Best Engineered Album, Non-Classical in 2013.
The mockumentary AIC 23 was released via Funny or Die on April 3, 2013 to promote the album.
Alice in Chains is an American rock band formed in Seattle, Washington, in 1987 by guitarist/vocalist Jerry Cantrell and drummer Sean Kinney, who then recruited bassist Mike Starr and lead vocalist Layne Staley. Mike Starr was replaced in 1993 by more...
Genres: Alternative Metal, International Rock
Also download other albums from Alice In Chains