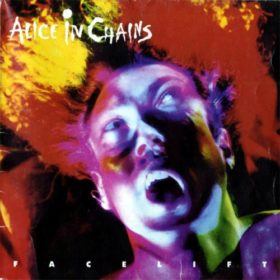 Alice In Chains – Facelift (1990)
Tracks
Description
Artist
To listen to a song, click the "Play" button.
We Die Young
Man in the Box
Sea of Sorrow
Bleed the Freak
I Can't Remember
Love, Hate, Love
It Ain't Like That
Sunshine
Put You Down
Confusion
I Know Somethin (Bout You)
Real Thing
Facelift is the debut studio album by the American rock band Alice in Chains. The album was released on August 21, 1990. "We Die Young", "Man in the Box", "Bleed the Freak" and "Sea of Sorrow" were released as singles. "Man In The Box" was nominated for a Grammy Award for Best Hard Rock Performance with Vocal in 1992. The album peaked at No. 42 on the Billboard 200 chart, was certified platinum and has gone on to be certified double-platinum by the RIAA for shipments of two million copies in the United States. Facelift became the first album from the grunge movement to be certified gold on September 11, 1991.
Alice in Chains is an American rock band formed in Seattle, Washington, in 1987 by guitarist/vocalist Jerry Cantrell and drummer Sean Kinney, who then recruited bassist Mike Starr and lead vocalist Layne Staley. Mike Starr was replaced in 1993 by more...
Genres: Heavy Metal, International Rock
Also download other albums from Alice In Chains