Alice In Chains – Rainier Fog (2018)
Tracks
Alice In Chains - The One You Know (Official Music Video)
Other videos of this song:

Alice In Chains - 01 - The One You Know - (Rainier Fog 2018)

Alice in Chains - The One You Know (Live Hellfest 2018)

Alice In Chains - The One You Know [Live In The Lounge]

Alice In Chains - The One You Know (Lyric Video)

Alice In Chains - The One You Know - #01
About the Album
Rainier Fog is the sixth studio album by the American rock band Alice in Chains, released on August 24, 2018, through BMG, the band's first release on the label. The title was inspired by Mount Rainier, a volcano that overlooks the Seattle-Tacoma metropolitan area, and the title track is a tribute to the Seattle music scene. This is the band's third album with William DuVall sharing lead vocals with Jerry Cantrell, and the first Alice in Chains album in 22 years to be recorded in their hometown of Seattle. The album was partially recorded at Seattle's Studio X (formerly Bad Animals Studios), the same studio where the band recorded their 1995 self-titled album. Rainier Fog is also Alice in Chains' third collaboration with producer Nick Raskulinecz, marking their first time recording three full-length albums with the same producer.
The tracks "The One You Know", "So Far Under"and "Never Fade"were released as singles to promote the album.
Rainier Fog debuted at No. 12 on the Billboard 200 chart. It also debuted at No. 1 on Billboard's Top Rock Albums, Alternative Albums and Hard Rock Albums charts. The album became Alice in Chains' first top 10 in the UK, peaking at No. 9.
Genres: Doom Metal, Hard Rock, International Rock
About the Artist/Band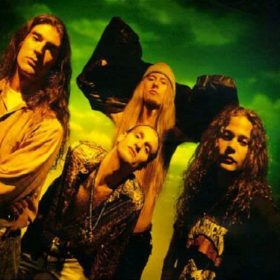 Alice in Chains is an American rock band formed in Seattle, Washington, in 1987 by guitarist/vocalist Jerry Cantrell and drummer Sean Kinney, who then recruited bassist Mike Starr and lead vocalist Layne Staley. Mike Starr was replaced in 1993 by more...
Other Alice In Chains discography albums for download