Sex Pistols – Some Product: Carri on Sex Pistols (1979)
Tracks
The Very Name 'Sex Pistols' (Remastered 1993)
Other videos of this song:

History of the Sex Pistols: Johnny Rotten, Sid Vicious

The Sex Pistols - Anarchy In The U.K (official video)

Malcolm Mclaren / Sex Pistols 1976

Friggin in the riggin the sex pistols

01 The Very Name Sex Pistols
1
The Very Name 'Sex Pistols'
3
Big Tits Across America
4
The Complex World Of Johnny Rotten
About the Album
Some Product: Carri on Sex Pistols is an interview album featuring members of the Sex Pistols. The interviews are mostly presented in a collage style. All tracks are spoken word collages put together by John Varnom from various interviews and radio ads. Additional material includes a snippet from Tubular Bells.
The artwork was done by artist Jamie Reid. The title melds the British comedy series of Carry On films with a pun on the word carrion.
Genres: International Rock, Punk Rock
About the Artist/Band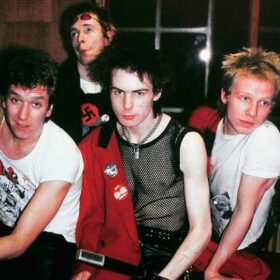 The Sex Pistols were an English punk rock band that formed in London in 1975. They were responsible for initiating the punk movement in the United Kingdom and inspiring many later punk and alternative rock musicians. Although their initial career more...
Other Sex Pistols discography albums for download