Sex Pistols – Anarchy in the UK: Live at the 76 Club (1985)
Tracks
The Sex Pistols - Anarchy In The U.K (official video)
Other videos of this song:

Sex Pistols - Anarchy In The UK

Anarchy In The UK

Sex pistols "Anarchy in the UK" HQ ( Live 2007)

Sex Pistols - Anarchy In The UK

SEX PISTOLS - ANARCHY IN THE UK
4
Dolls (New York) (live)
5
Don't Give Me No Lip, Child
6
(I'm Not Your) Steppin' Stone
About the Album
Anarchy in the UK: Live at the 76 Club is a live album by the English punk rock band The Sex Pistols. It was recorded live at the 76 Club in Burton upon Trent. Prior to its formal release, the album had made its way around Sex Pistols fans as a bootleg, most commonly under the title Indecent Exposure in which form it was first issued in 1978, though the number of tracks included varies. In 2001 the album was remastered and re-released on Yeaah Records as "The 76 Club".
Genres: International Rock, Punk Rock
About the Artist/Band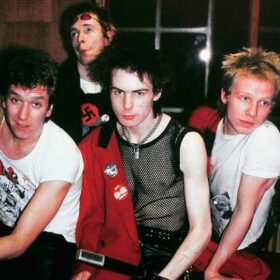 The Sex Pistols were an English punk rock band that formed in London in 1975. They were responsible for initiating the punk movement in the United Kingdom and inspiring many later punk and alternative rock musicians. Although their initial career more...
Other Sex Pistols discography albums for download