Sex Pistols – Kiss This (1992)
Tracks
The Sex Pistols - Anarchy In The U.K (official video)
Other videos of this song:

Sex Pistols - Anarchy In The UK

Anarchy In The UK

Sex pistols "Anarchy in the UK" HQ ( Live 2007)

Sex Pistols - Anarchy In The UK

Sex Pistols - Anarchy in the U.K. (Lyrics)
9
Don't Give Me No Lip, Child
10
(I'm Not Your) Stepping Stone
18
EMI (Unlimited Edition)
About the Album
Kiss This is a "best of"compilation by the Sex Pistols released in 1992, which features all of Never Mind the Bollocks, Here's the Sex Pistols' album tracks, interspersed with singles and B-sides.
Originally it was issued with a bonus CD featuring 21 July 1977 show at Trondheim and a foldout colour poster.
Genres: International Rock, Punk Rock
About the Artist/Band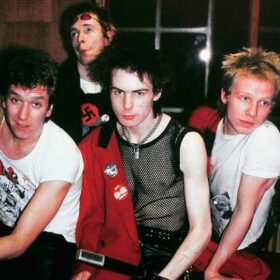 The Sex Pistols were an English punk rock band that formed in London in 1975. They were responsible for initiating the punk movement in the United Kingdom and inspiring many later punk and alternative rock musicians. Although their initial career more...
Other Sex Pistols discography albums for download