Sex Pistols – Sex Pistols Box Set (2002)
Tracks
1
Studio Tracks & Early Demos
15
No Feeling (Bonus B-side)
22
Anarchy In The UK (Instrumental)
28
(Don't Give Me) No Lip
29
(I'm Not Your) Stepping Stone
32
Whatcha Gonna Do About It?
35
No Feelings (Instrumental)
45
Submission (Version #1)
46
God Save The Queen (Instrumental)
47
Live At Screen On The Green '76, Plus Live Rarities
52
(Don't Give Me) No Lip
53
(I'm Not Your) Stepping Stone
67
Pretty Vacant (Instrumental)
About the Album
Sex Pistols is a box set anthology of the career of the punk band The Sex Pistols with singer Johnny Rotten. It was released on 3 June 2002. The set comprises three themed CDs and an 80-page booklet.
The first disc features Never Mind the Bollocks, the band's only studio album, in its entirety, as well as four B-sides and the band's first demo session.
The second disc has demos and studio outtakes, from July 1976 to January 1977 and from the Never Mind the Bollocks sessions. This, together with the first disc, includes most of the material recorded by the band while Johnny Rotten was the singer.
The third disc, composed of previously unreleased live tracks, is almost completely made up with a 31 August 1976 gig at Islington Screen on the Green Cinema. Live bonus tracks include songs never recorded in the studio, "Understanding", "Flowers of Romance"and the legendary live performance of "Belsen Was a Gas".
Genres: International Rock, Punk Rock
About the Artist/Band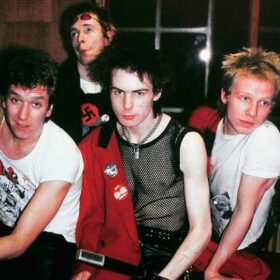 The Sex Pistols were an English punk rock band that formed in London in 1975. They were responsible for initiating the punk movement in the United Kingdom and inspiring many later punk and alternative rock musicians. Although their initial career more...
Other Sex Pistols discography albums for download