Peter Gabriel – Birdy (1985)
Tracks
Other videos of this song:

Peter Gabriel At Night

Mix - At Night

Peter gabriel The rhythm of the heat

At Night

Peter Gabriel - Solsbury Hill
4
Close Up (From Family Snapshot)
7
Birdy's Flight (From Not One Of Us)
9
The Heat (From The Rhythm Of The Heat)
10
Sketchpad With Trumpet And Voice
11
Under Lock And Key (From Wallflower)
12
Powerhouse At The Foot Of The Mountain (From San Jacinto)
About the Album
Birdy is the first soundtrack and sixth album overall by the English rock musician Peter Gabriel, for the movie of the same name, released in 1985 (see 1985 in music). The album marked Gabriel's first work with producer Daniel Lanois. It was remastered with most of Gabriel's catalogue in 2002.
In addition to composing new pieces for the soundtrack, Gabriel also used instrumental themes and sections from earlier works to form the basis of some tracks. There were, however, no songs with lyrics on the album.
Genres: Experimental Rock, International Rock, Progressive Rock
About the Artist/Band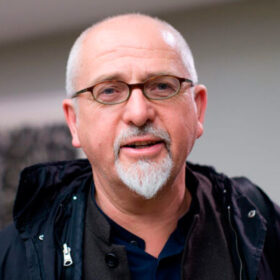 Peter Brian Gabriel (born 13 February 1950) is an English singer, songwriter, musician, record producer and activist. He rose to fame as the original lead singer of the progressive rock band Genesis. After leaving Genesis in 1975, he launched a more...
Other Peter Gabriel discography albums for download