Peter Gabriel – Long Walk Home (2002)
Tracks
Peter Gabriel 01 Jigalong
Other videos of this song:

Peter Gabriel - Ngankarrparni (Sky Blue) - The Rabbit-Proof Fence

Jigalong

Peter Gabriel - 15 - Cloudless

Mix - Peter Gabriel 01 Jigalong

Various Artists - "Plus From Us" (full album) - musicians from Peter Gabriel's "Us"
12
The Return (Parts 1, 2 And 3)
13
Ngankarrparni (Sky Blue - Reprise)
14
The Rabbit-Proof Fence
About the Album
Long Walk Home: Music from the Rabbit-Proof Fence, released in June 2002, is the fourth soundtrack album and twelfth album overall by the English rock musician Peter Gabriel. Devised as the soundtrack to the Australian film Rabbit-Proof Fence, it was the first release of new music by Peter Gabriel since OVO, also a soundtrack.
The theme from the tracks "Ngankarrparni"and "Cloudless"recurs in the track "Sky Blue"on Gabriel's album Up and had previously been heard in the track "The Nest That Sailed The Sky"from OVO, composed for the show in the UK's Millennium Dome in 2000.
Genres: International Rock, Pop Rock
About the Artist/Band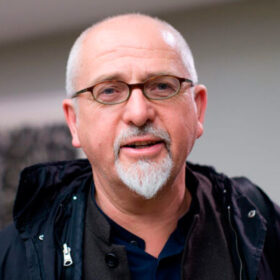 Peter Brian Gabriel (born 13 February 1950) is an English singer, songwriter, musician, record producer and activist. He rose to fame as the original lead singer of the progressive rock band Genesis. After leaving Genesis in 1975, he launched a more...
Other Peter Gabriel discography albums for download