Peter Gabriel – Passion (1989)
Tracks
Peter Gabriel 01 The Feeling Begins
Other videos of this song:

peter gabriel -the feeling begins

The Feeling Begins

Peter Gabriel - The Feeling Begins

Mix - Peter Gabriel 01 The Feeling Begins

peter gabriel-the feeling begins
5
Of These, Hope (reprise)
16
With This Love - Choir
18
The Promise of Shadows
About the Album
Passion (re-released as Passion: Music for The Last Temptation of Christ) is an album released in 1989 by the English singer-songwriter Peter Gabriel. It was the first Peter Gabriel album to be released on Real World Records. It is his second soundtrack and eighth album overall. It was originally composed as the soundtrack album for the film The Last Temptation of Christ, but Gabriel spent several months after the film's release further developing the music, finally releasing it as a full-fledged album instead of a movie soundtrack. It is seen as a landmark in the popularisation of world music, and won a Grammy Award for Best New Age Album in 1990. It was remastered with most of Gabriel's catalogue in 2002.
Genres: International Rock, New Wave
About the Artist/Band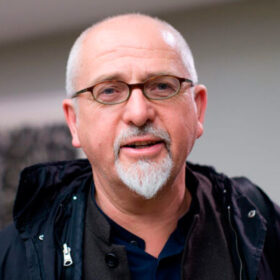 Peter Brian Gabriel (born 13 February 1950) is an English singer, songwriter, musician, record producer and activist. He rose to fame as the original lead singer of the progressive rock band Genesis. After leaving Genesis in 1975, he launched a more...
Other Peter Gabriel discography albums for download