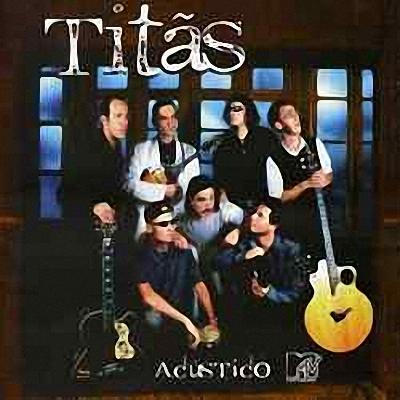 Titãs – Acústico MTV (1997)
Tracks
Description
Artist
To listen to a song, click the "Play" button.
Comida
Go Back
Pra Dizer Adeus
Família
Os Cegos do Castelo
O Pulso
Marvin
Nem 5 Minutos Guardados
Flores
Palavras
Hereditário
A Melhor Forma
Cabeça dinossauro (vinheta)
32 Dentes
Bichos Escrotos (vinheta)
Não Vou Lutar
Homem Primata (vinheta)
Homem Primata
Polícia (vinheta)
Querem meu sangue
Diversão
Televisão
Acústico MTV is the second live album released by Brazilian rock band Titãs. It's part of the MTV Unplugged series and resulted in a tour, a CD, a DVD and a TV special broadcast by MTV on 22 May from that year.
The show featured various guest performances, including Argentinian singer Fito Páez on "Go Back", Marisa Monte on "Flores", Jamaican Jimmy Cliff on "Querem Meu Sangue", and ex-Titãs singer Arnaldo Antunes on "O Pulso". Páez also sings and plays the piano on the DVD version of "Televisão", while the CD version (recorded in studio) is sung by guest Rita Lee and played by also guest Roberto de Carvalho. The CD also features a short version of "Cabeça Dinossauro"sung by Marina Lima. Maria Bethânia was also expected to perform a version of "Miséria".
Despite it having been a radio and commercial success, the band rejected the idea of it being an album conceived with commercial interests. They said creating these versions for their own songs was a challenge. As vocalist and bassist Nando Reis said, "we had to prove that Titãs could be different from Titãs and still be as good as them". They were afraid of sounding "pathetic", but were happy with growing their audience and to be back on the radio. Reis said the work was "a relief. It is very important for a band of this size to be popular. We have no underground vocation. I have no vocation to perform for half a dozen people. This does not mean to make the work mediocre". The album was also thought of as a celebration of the band's 15th anniversary.
The last performances of the tour took place in 4 and 5 April 1998, at Olympia in São Paulo. These only happened after much requests from the fans, since the tour was supposed to end on 14 March at Ibirapuera Park, after 140 shows. In these last performaneces, the band already presented to the public their version of "É Preciso Saber Viver", a hit from their then future album Volume Dois, which they were conceiving at the time.
Titãs are a rock band from São Paulo, Brazil. Though they basically play pop/alternative rock, their music has touched a number of other styles throughout their 30-year career, such as new wave, punk rock, grunge, MPB and electronic music.They more...
Genres: Brazilian Rock, Pop Rock
Also download other albums from Titãs