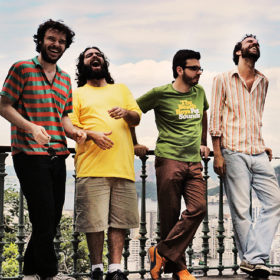 Los Hermanos
Los Hermanos is a rock band from Rio de Janeiro, Brazil. The group was formed in 1997 by Marcelo Camelo (vocals/guitar), Rodrigo Amarante (guitar/vocals), Rodrigo Barba (drums), and Bruno Medina (keyboards/keyboard bass). Currently they are on an
more...
Los Hermanos is a rock band from Rio de Janeiro, Brazil. The group was formed in 1997 by Marcelo Camelo (vocals/guitar), Rodrigo Amarante (guitar/vocals), Rodrigo Barba (drums), and Bruno Medina (keyboards/keyboard bass). Currently they are on an extended hiatus, performing some concerts sporadically.
Although the band is Brazilian, the name is Spanish, meaning "the brothers", which would be "Os Irmãos" in Portuguese.
Then students from Pontifical Catholic University of Rio de Janeiro, Marcelo Camelo (Journalism), and Rodrigo Barba (Psychology) formed a band that mixed the hardcore influences with the lightness of lyrics about love. In addition, the band had a saxophonist, and, later, the keyboardist Bruno Medina, Advertising student at the same college, was incorporated to the group. When the musicians Rodrigo Amarante (vocals, guitar and percussion) and Patrick Laplan (bass) joined the band, and with the output of three musicians of their formation (trumpeter Marcio and saxophonists Carlos and Victor), they recorded in 1997 their first material, the demos "Chora" and "Amor e Folia."
The demos affected the underground scene of Rio de Janeiro and later the Los Hermanos were called to play at the "Superdemos", a great independent music festival from Rio, and festival Abril Pro Rock, in Recife, Pernambuco.
The two demos eventually found their way to the hands of Paulo André, the producer of the Abril Pro Rock festival, in Recife. The band was then invited to perform on one of the biggest alternative music festivals in Brazil, the Superdemo. Their first album self-titled album, released in 1999, became a huge seller on the back of the hit single "Anna Júlia". The album's success was driven by the song "Anna Julia" chosen – for the record – as the first single, for it was a number that resonated among young people, identified with the Jovem Guarda style lyrics, mixed to a musical group influenced by rock, ska and samba.
Los Hermanos discography for download