Los Hermanos – Luau MTV (2004)
Tracks
Los hermanos - Descoberta
Other videos of this song:

Los Hermanos - Descoberta (Video) (Extras)

Mix - Los hermanos - Descoberta

Luau MTV Los Hermanos - (1) Descoberta

LOS HERMANOS AO VIVO NO MARACANÃ - COMPLETO! | Música Multishow

Los Hermanos - Descoberta (Pseudo Video)
8
Todo Carnaval Tem Seu Fim
About the Artist/Band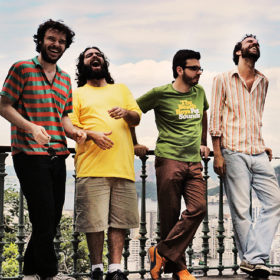 Los Hermanos is a rock band from Rio de Janeiro, Brazil. The group was formed in 1997 by Marcelo Camelo (vocals/guitar), Rodrigo Amarante (guitar/vocals), Rodrigo Barba (drums), and Bruno Medina (keyboards/keyboard bass). Currently they are on an more...
Other Los Hermanos discography albums for download